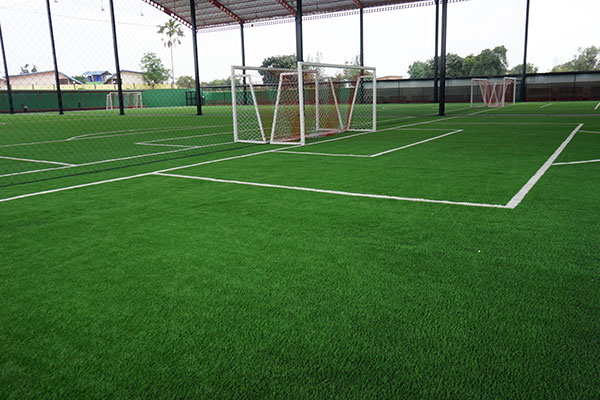 SoccerPro is the first soccer pitch in artifical turf to guarantee a playing performance comparable with the best natural turf pitches, regardless of season or climate.
Its secret lies in its fibres - abrasion free, UV ray resistant- and a filling that is a finely measured mix of sand and rubber or 100% organic material.
Full range of dedicated Football Turf systems
Realizing FIFA recommended installations
Exclusive Limonta Sport components and systems
Meets with most leading national and international standards
Special systems for mini football
Both 3G and 4G installations
More than 1,000 pitches all over the world are our Business Card and a measurement of our reputation.
Limonta Sport offers a variety of monofilament, CLMT and hybrid products. The range contains, amongst others, the oustanding SoccerPro Max-S and SoccerPro MF Diamond.

Maintenance:
A good maintenance is really important to maintain the pitch in optimal conditions, and extend the life cycle of the product. Limonta Sport provides guidelinesfor maintenance to all its clients, together with the possibility to get professional machines for a perfect field maintenance.
---
MAX S
The SoccerPro MAX S is definitely the absolute state of the art synthesis of our customers preferences and the technology and design achievements of our R&D.

Unique double-S shape
Unrivaled performance
Resilient, reinforced yarn
Recognized by all stake-holders as a leading market product
Analyzing the success of the various systems and products in the synthetic turf market we have found that the SoccerPro MAX S perfectly appeals to what football players, coaches and decision makers do want to invest in.
From a players point of view they would like to see aspects as a very natural ball roll, very natural grass alike footing and hardly any skin abrasion. From a technical point of view we have achieved thus by creating a product using a fibre that has great capacities to come back in its original position (resilience). By adding the usage of an enhanced polymer we have at the same time achieved thus with a far better wear resistance, not yet be seen in the industry. For the investor this results in a more consistent field during the product life cycle.
System design:
The SoccerPro Max S system is designed to meet with various requirements:
from a high level performing match field till a heavy duty training field. Limonta Sport and its business partners have made systems available meeting with international (FIFA) and local requirements.
Apart from the construction design (subbase, optional shockpad, SoccerPro Max S and infill) we also closely supervise the installation techniques and equipment to assure a perfect end result together with our business partners and installers.

Maintenance:
Good maintenance is essential for keeping the field in optimal condition and for extending the life span of the field.
We as Limonta Sport give guidelines for executing the maintenance.
Specialised maintenance equipment is available through Limonta Sport as well as advise on available machinery on the market.

Guarantee:
The SoccerPro Max S product comes with a clear guarantee.
Limonta Sport clearly indicates usage of the product and providing the guidelines are being observed a full size field will have a guarantee for 8 years.
Together with your supplier Limonta Sport can address all aspects concerning the guarantee.